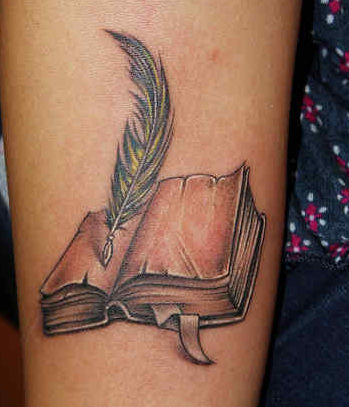 I adore tattoos. I think there is something beautiful and elegant about a well-done piece of art forever etched onto the body.
I'm a massive fan of Tattoo Fixers, Ink Master, Bad Ink, LA Ink, America's worst tattoos and pretty much any other show where they set on you with a tattoo machine and a great idea.
Do I have any tattoos myself?
No.
For two main reasons.
One: Tattoo shops/ parlours fill me with dread at the idea of walking in as a blank canvas and getting judged by artists who are covered head to toe in indelible art. What a noob!
Two: I think the pressure of trying to come up with one idea and sticking to it would probably make me explode.
If I were ever to get myself inked it would be book based (obviously) and… that's about as much as I can decide right now. My favourite book changes based on my mood and I have so many favourite quotes it would be like trying to fit the entire Bible on my skin.
I know there is a new form of temporary tattoos called Inkbox that I'm really tempted to try but until then I will be delving through Pinterest boards and google searches to find the perfect tattoo.
Here are some that I have found through my long searches that are variations of books themselves.
In this post I am not adding Harry Potter tattoos which deserve a post all on their own nor am I putting quote or character art. This is just books.
---
Disclaimer: I own none of these images. They belong to the artist and or canvas on which they were etched.
---
1. Mini Tattoos
Tiny, delicate tattoos designed to fit on your hand, wrist or finger. Not too overpowering but just enough to show your true allegiance.
2. Watercolour images
I know watercolours fade with age and even the brightest tattoo can end up looking washed out but right now the power and the punch of these gorgeously coloured tattoos are breathtaking. I love and adore the whimsical nature of these and the ones that have the galaxy spilling out are literally awesome. (As in the literal meaning of inspiring awe.)
3. Books into birds
It's quite a popular theme, where the open book has pages drifting into air becoming birds. I think the symbolism is something to do with books setting us free. Personally, I think I'd prefer it if the pages turned into bats. Maybe that's my future tattoo there.
4. Book piles
If you are anything like me you live in constant fear of being crushed by your TBR pile. The stacks of books on these tattoos are beautifully done but only the spine one resembles my TBR.
5. Gorgeous Colour
Not just watercolour but some of these tattoos have the most intense bursts of colour that really make them pop.
6. Book tree
Another quite popular book tattoo theme is the book turning into a tree, or tree growing from a book. Is this because paper comes from trees or because books impart knowledge which, like a tree, grows? Or something more pretentious?
7. Open books
The open book can be interpreted in so many ways; a splash of colour, a quill, words spilling into the sky or the writing itself coming out. It lends itself to such an endless variety that there is no need for two people to have the same tattoo. The Atlas one is one of my favourites as it is so bold and beautiful in sepia.
9. Tea for Two
There are endless tea and coffee mugs next to books or on top of books. Dainty teacups and teapots. Personally, I've yet to see cup rings on a book tattoo. True to life!
10. Literary but limitless
Simple quotes on the books or skin splitting to show the words underneath are popular but can be so effective. Just because something is done lots doesn't mean it can't be unique. "I have lived a thousand lives" is a very common quote in book tattoos and I've seen a fair few signposts to fictional lands too. Books springing into gardens are always done beautifully in my opinion. And in recent times I have seen more 'library in people's heads' art.
11. Fun
And lastly, these people are just having a blast with their tattoos which is part of the charm. Sexy librarian, how to read or engaging picture of a reader- whatever floats your boat, rustles your pages etc.
---
So there you have it.
Do you have book tattoos? What would you get if you could? Which are your favourites?